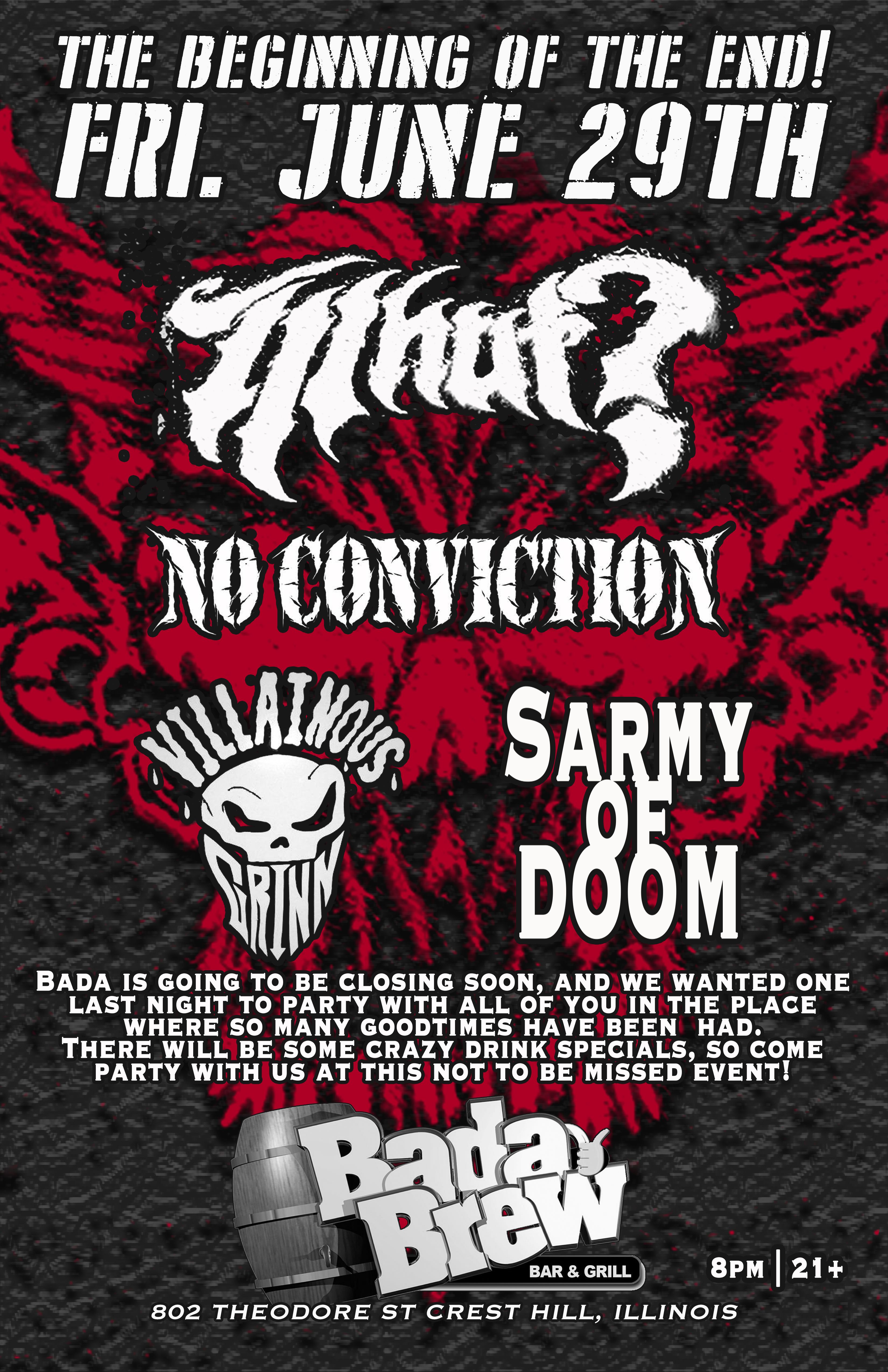 On Friday June 29th 
WHUT? 
NO CONVICTION 
Villainous Grinn 
Sarmy of DOOM (Only show of 2018) 
Doors @ 8pm. 
$10 at the door. 
21+ 
There will be some crazy drink specials all night and we are sure there will be a few surprises. 
Note about this show: 
Hey Everybody! 
Lot's of rumors and speculation going on, let us do our best to fill yawl in. We are speaking on our own behalf, with being in direct contact with the owners and management of Bada Brew. 
When this show was booked a couple weeks ago, Bada Brew was set to close on June 30th. The initial plan was to give everyone one last night to party at Bada. The details of this show were approved by the venue owners prior to this event going online. We aren't "some band spreading rumors" and we are not trying to put out any misinformation. In this last week since the show hit online there have been a few new developments. 
First, by the grace of the dark lord, Bada Brew has been granted an a brief extension to remain open and operating. From what we are told this extension is temporary and may hold out for a couple more weeks to a few months. How long it will last depends on a few things, But right now the clock is ticking and things are at the beginning of the end as the venue is planning on closing in very the near future. 
There have been comments made and from what we hear, there have been multiple parties that expressed interest in purchasing Bada, but it's a put up or shut up type moment, And if they are going to now is the time for them to step up to the plate and not just talk about it. 
The 6/29 show will still go on, and as things sit this still looks like the the final WHUT? Bada Brew show after 11 years of doing shows here. As sad as we are to see this place go, we are looking forward to one last Bada party and are stoked to being doing it with our friends in No Conviction, Villainous Grinn and Sarmy Of Doom. So come celebrate the beginning of the end with us next Friday, We hope to see lots of familiar faces to help us destroy this place one last time. 
-WHUT?-