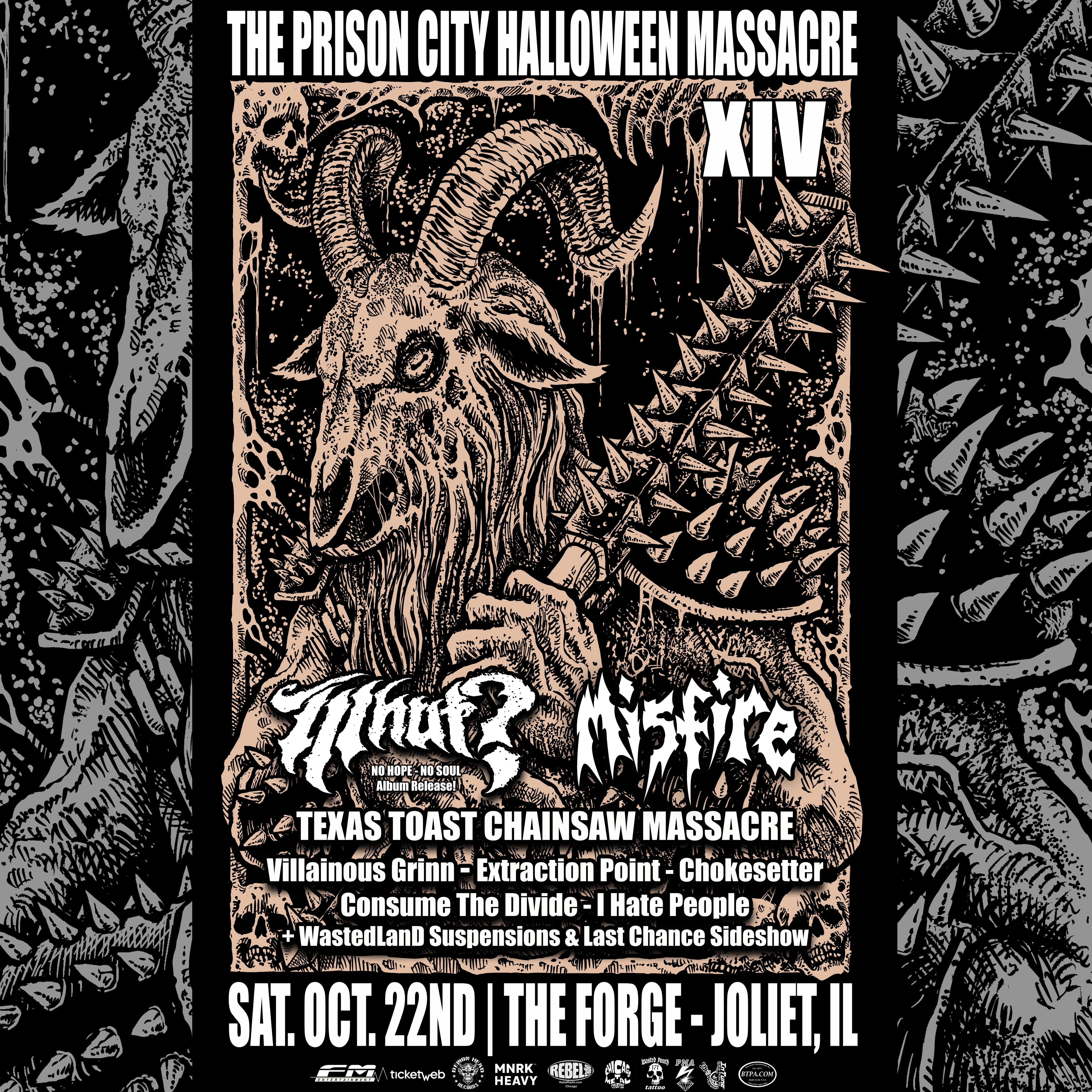 Boils and Ghouls, 
The Prison City Halloween Massacre returns on Saturday October 22nd with the XIV installment of the Joliet areas more most horrifying event celebrating the 15 year anniversary of the still born event; 2006 - 2022! 
This year our Demon Scum open the gates to hell and unleash the celebration of WHUT?'s new demonic album, NO HOPE - NO SOUL! and will cause shivers to the most soulless around. Joining in on this hellish party is the mighty thrash metal fiends, MISFIRE! Making their PCHM debut, the crossover destruction of the TEXAS TOAST CHAINSAW MASSACRE! After a 3 year wait, VILLAINOUS GRINN has had their unholy souls ripped back from the land of the dead to return to this party. The body part craving continues with EXTRACTION POINT! Traveling over state lines to strangle all of you, welcome for the first time at this horror party, CHOKESETTER! The fiery spit of the two headed beast is here with CONSUME THE DIVIDE! The angry monster of the underground opens our flood gates to hell and the demons will chant I HATE PEOPLE!!!!!!!!!!!! And if this wasn't enough punishment for all you bad animals, we will torment you with the DisGraceFull sites and antics of WASTELAND's human Body Suspension and the creepiest show of them all, LAST CHANCE SIDESHOW! 
To enter the PCHM14, The Forge (22 W Cass St, Joliet) will open it's gates at 5:30pm for this ALL AGES Halloween event! 21+ with ID to enjoy Spirts responsibly. See you there or see you in HELLLLLLLLLLLL! 
https://www.ticketweb.com/event/whut-misfire-texas-toast-chainsaw-the-forge-tickets/12488555